Ordinary People Doing Extraordinary Things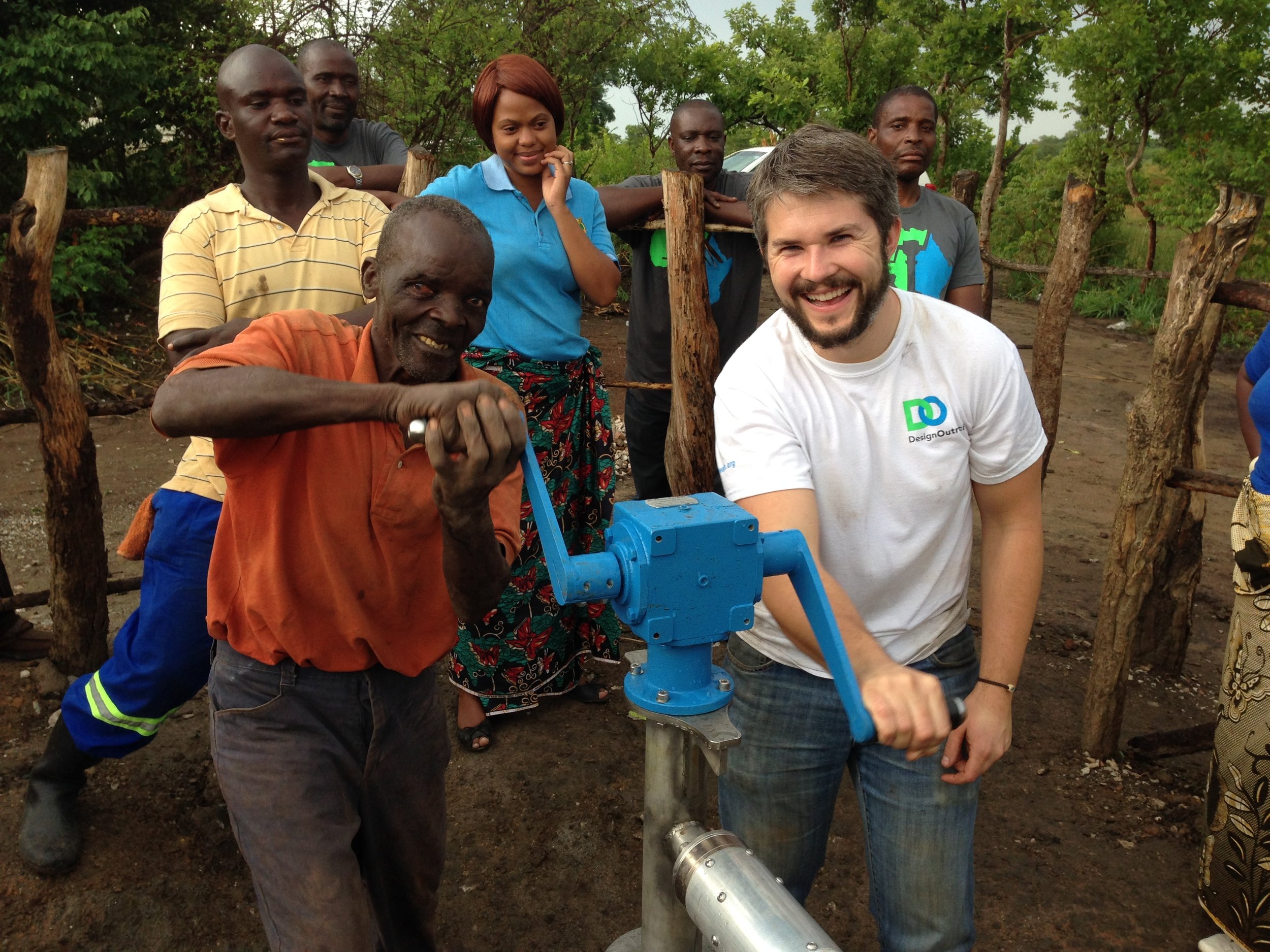 The pump industry can never be accused of being a glamourous one. Nevertheless, individuals are often called on to perform vital and sometimes dramatic tasks in the midst of crisis and disaster – turning those participants into 'unsung heroes.'
By Michelle Segrest, Navigate Content, Inc. - Reporting for World Pumps Magazine
Super heroes come in all shapes and sizes. And even without the power of invisibility, they often go unnoticed. They don't wear a cape or possess super strength, but when disaster strikes, they load up powerful pump equipment and throw themselves directly into the eye of the storm to help those in need.
Whether providing clean water to communities that don't have it, or removing excess floodwater after a natural disaster, these pump industry professionals became heroes to communities in crisis. Here are just a few examples:
Hurricane Harvey Recovery
The Houston, Texas metro area is the fourth largest city in the United States with 6.6 million residents. At more than 600 square miles, it is as big as Chicago, Cleveland, Detroit, and Philadelphia combined. When Hurricane Harvey, a Category 4 storm, hit Texas on August 25, 2017, it caused more than $180 billion in damage and affected more than 13 million people in Texas, Louisiana, Mississippi, Tennessee, and Kentucky, killing more than 82 people.
Harvey made landfall three separate times in six days. At its peak on Sept. 1, 2017, one-third of Houston was underwater. Flooding forced 39,000 people out of their homes after two feet of rain fell in the first 24 hours. The massive storm damaged more than 203,000 homes, completely destroying 12,700 of them. More than 738,000 people registered for assistance with the Emergency Management Agency.
As soon as the storm hit on August 25, Global Pump Operating Engineer Jose Soverano went to work. He worked 16-to 18-hour days nonstop until the end of October, working through weekends, holidays, and family events. "In some cases, Jose would get a call after he went home at night just to return to the site to troubleshoot problems that had arisen after he left," said Global Pump President Gino Mersino. "It wasn't until the first of November that he started taking Sundays off until the job finished at the end of November."
Soverano was in charge of a team of 12 men who were pumping out parking garages and basements of buildings that had flooded in downtown Houston after the hurricane.
"Jose and his crew worked in adverse conditions trying to get the people and the City of Houston back to some kind of normalcy as quickly as possible," Mersino said. "There would be days that he would be working up to his waist in water in dark basements and garages under street level due to there being no power from the storm. Jose also carried 100- to 150-pound pumps and hundreds of feet of hose and electrical cords down flights of stairs to get the structures pumped out."
Other than electric submersible pumps, he also set-up generators, portable diesel pumps and light towers. "Not only did the long, nonstop days take its toll, the hot muggy Houston summer was in full swing," Mersino said. "There were also many rodents, rabbits, coyotes, and even one alligator that had been washed into the underground garages due to the storm water. Those aren't your typical obstacles to have to overcome."
It took three months to undo what took Mother Nature a few days to destroy. "But at the end of it, with Jose's unselfish dedication and willingness, he helped many people to get back to their normal way of living," Mersino said.
Providing Clean Water to Third World Communities
Ten years ago, Design Outreach founders Greg Bixler and Abe Wright had an idea of using their engineering expertise to help provide clean water to people in developing countries who had little or no access to it. Bixler visited Central Asia in 2007 and after seeing the extreme poverty up close he realized he could help to alleviate some suffering in the world by using his engineering talents.
In 2010, Bixler and Wright co-founded Design Outreach, whose flagship product, the LifePump, is helping to solve the global water crisis by bringing the many benefits of reliable water to people across Africa and Haiti. Bixler's endeavors have led him to 18 countries—all while serving as CEO of Design Outreach, resident director for the Ohio State University (OSU) service-learning program, and as advisor for the OSU student chapter of Engineers Without Borders.
"There is a well-documented statistic that 90% of the world's products are designed for only 10% of the world's people," Bixler said. "Engineers like myself spend all of our time designing things for just a sliver of the world's population. That's where humanitarian engineering comes in—to help fill that gap to design for people who are being overlooked."
Design Outreach has now installed 49 LifePumps in six countries—Malawi, Zambia, Ethiopia, Mali, Kenya, and Haiti. The estimated number of lives impacted is about 17,150. The first LifePump was installed in Zolomondo, Malawi, in November 2013 and has been operating continuously with no downtime for more than four years.
With more than 250 million people living today without access to clean water, Bixler said he knows his company is not the only one devoted to solving the world's water crisis. But with a reliable pump that is easily installed, easily operated, easily maintained, and can pump into extremely deep wells, the LifePump is certainly doing its part. Design Outreach is mostly volunteer-based with many engineers, marketers, accountants, lawyers, and church groups who want to use their skills to contribute to a greater cause.
"We have so much abundance in America," said Bixler, a 37-year old father of three. "Its not that we should feel guilty of that abundance, but we can certainly use our wealth and abundance to help a lot of people in the world. It's good for me to experience that. I've learned that draining my bank account is not going to solve the worlds problems, but inspiring other people to join me will make a huge difference. If we all do a little bit we can get rid of a lot of these problems in the world."
Bixler remembers the first prototype he installed in the field in the Central African Republic in 2011. He also remembers serious lessons learned.
"It was a great learning experience, which in engineering terms means it didn't work," he said. "We did all of our due diligence, all of our research and testing in the United States on a shoestring budget, of course. We had two pumps we were going to install. Basically we learned that the psyche of humanitarian engineering is really a combination of using our first world of engineering—which is what we learn in college—and combining that with sociology and anthropology and understanding how people think. It's important to design things for people that are appropriate for them, and that has the right value proposition. How to create appropriate technology has become a driving force for me. The technology must be appropriate for the people and the culture. This is very different than how we design things for the rest of the world."
Bixler has seen first-hand how difficult it is to get water in some of these remote locations. The women must walk many miles and carry heavy containers of water, sometimes weighing more than 40 pounds. And the water is filthy.
"These are real people, not just statistics," Bixler said. "When we show up to install a LifePump, the people of the village are singing and dancing because they are so appreciative. Because they now have water, there is less disease, more food, schools are being built, and gardens are planted. Their lives are completely changed."
Still, Bixler said he doesn't feel like a hero.
"I think of a hero as someone who runs into a burning building or gets shot at trying to save a life," he said. "I think it is an extreme blessing to be a part of this. It's very fulfilling. In the beginning, I only wanted to work at a job where I was just doing engineering. But then I realized that I want to do things that directly help people. To be honest it is a very humbling experience. I'm not the one suffering. Of course there are risks in traveling and of course some places are a little more risky than others. People told us for decades they had been praying for water and then all of a sudden we show up and help them. This makes it all worthwhile."
Building Water Towers in Puerto Rico after Hurricane Maria
On September 20, 2017, Hurricane Maria made landfall in Puerto Rico. During the strongest storm the island had seen in 85 years, 155 mph winds brought total devastation to the 3.4 million residents of the Caribbean nation. Within hours, their power was cut, their land flooded, and their homes and livelihoods destroyed. Following the hurricane, volunteer teams from around the world worked alongside Puerto Rican communities–together battling stifling heat and humidity to clear roads, reopen schools, restore basic amenities, and rebuild homes.
Access to clean running water was one of the most urgent challenges facing Puerto Ricans in the aftermath of Maria. Without a safe drinking water supply, families resorted to drawing water from wells polluted with industrial chemicals, or from streams contaminated with sewage and dead animals. Although Maria had moved on, serious risks to the health of communities across the island remained.
One six-member team from water technology company Xylem joined its philanthropic arm, Xylem Watermark, and the nonprofit organization Planet Water to build 12 water towers in six days. Each tower provides up to 10,000 liters of clean drinking water every day to sustain up to 1,000 people.
"We all take water for granted," said Xylem Market Manager and Sales Engineer Nate Warren. "Living in the United States we have a privileged life. But when you go to a place where they don't have as much as we do, and then the rest is ripped from under them, it's humbling to see them be so thankful—to be so excited to have such a basic human need given to them."
Thousands of buildings—including homes, hospitals, and schools—were completely destroyed. Bridges were collapsed and huge swathes of precious agricultural land was flooded. The aftermath of the storm also left an alarming scarcity of water, food, gas, and electricity.
The six volunteers from Xylem included Warren of Los Angeles, California; Market Development Manager Richard Barg of Toronto, Canada; Sales Manager Mainor Vega of Palm Beach County, Florida; Senior Applications Engineer Hunter Powell of Charlotte, North Carolina; Marketing Manager Tim Main of Vancouver, Canada; and industrial diesel and pump mechanic Blake Buster of Dallas, Texas.
The frame of the towers are aluminum. At the top of each tower is a 1,000-liter storage tank. At the base is a filtration unit. At the base, there are also fill stations, or wash stations, installed. This provides the Puerto Ricans with wash basins and the ability to fill containers and water jugs. The simple design includes a structure of just 3 meters in height. In the rural settings where there was no direct water source, Xylem Saajhi stepping pumps were installed.
"It was a humbling experience, coming from where we have everything and working in an environment that is truly in desperate need of water," Barg said. "In some cases, people were waiting with their jugs before we even got there because they knew they would soon have fresh water. People would tell us that they just couldn't afford to buy bottled water anymore. It was a special and rewarding experience to be able to do this for them."
The towers require regular backwashing and will be maintained locally, with the support of Planet Water.
The hurricane hit on September 20. The team was onsite Nov. 7-14 and faced many challenges along the way.
"The biggest challenge was that some locations were really far from hotel," Warren explained. "Also, there was severe heat mixed with humidity. The heavy rain was also a challenge. When we went to each site, we had no expectations of what we would eat. The locals always fed us. The locals didn't have a lot of food or resources, but they fed us and gave us bottled water. These were people who were going without. We had to deal with some power outages. It's easy to complain about something like that until you think about the bigger picture. Sixty percent of the island didn't have power or running water. We just dealt with it and were up early the next morning building more towers."
Warren said he is appreciative of the experience.
"The thing that really struck me was showing up on one site, we built the towers and the people were waiting with jugs in hand," Warren said. "Everyone was standing there watching us waiting for us to finish. The little kids came up first. When they put water in the jugs they first shook the jug and poured it out. These kids deal with contaminated water on a regular basis, so they knew they had to first clean their jug. It made me proud to support this important relief and see how thankful these people were. They were sincerely grateful. You could see it, and you could feel it. It was such a selfless effort from everyone on the team. People just went to work regardless of how hot or sweaty or hungry or thirsty they were."
Emergency Pump Station Bypass
Late on a Friday before Memorial Day 2017 weekend, Baltimore County Texas experienced a pump station failure due to the event of a collapsed sewer and intake of rock. The county called for an emergency pump station bypass of up to 12 MGD.
Global Pump's Baltimore Administrative Manager Ashley Martin was the point of contact for yard activities and outside hauler coordination. All the trucks had to be loaded with yard equipment, and the yard forklift needed to be moved to the jobsite because no other rental machines were available to unload the trucks.
There were only two other account managers available at the time because some of the branch staff was on vacation and the logistics manager was on military leave. The account managers had to go to the jobsite until the transport work was completed. Martin stayed late and throughout the weekend to ensure the team in the field had what they needed.
The system included a primary 12GSH pump unit, three 8GSH pump units, and a backup 12GSH pump unit with piping. The first pump was installed Friday evening, and the other pumps arrived over the weekend and were installed by the end of the day on Memorial Day.
"Ashley worked late and throughout the holiday weekend to line out the trucks, the equipment, and filled in for the logistics manager," Mersino said. "Ashley changed from her office attire into company approved safety work clothes without being asked and was ready to do what was needed to help the team in the field. Ashley is very knowledgeable about our equipment and services as well as the functionality of bypass systems and has many years of industry experience. Ashley is always there to help the team and shows her sense of urgency, pride, and professionalism—no matter what the task may be. As far as our company is concerned, this makes her a hero."
Read the full coverage by following this link.
Michelle Segrest is president of Navigate Content, Inc., and has been a professional journalist for 29 years. She specializes in creating content for the industrial and municipal processing markets. She can be reached at michelle@navigatecontent.com.